The Express Entry system is Canada's primary source of managing applications for economic immigration. One of the critical aspects that candidates should be aware of is how job offers can affect their Express Entry points.
In this article, we delve deep into understanding the significance of having a job offer and how many points you stand to gain.
---
Points Breakdown for Job Offer
| Type of Job Offer | Points Awarded |
| --- | --- |
| Senior managerial jobs (NOC 00) | 200 points |
| Other skilled jobs (NOC 0, A, or B) | 50 points |
| Provincial Nomination (NOC Any) | 600 points |
Points Breakdown for Job Offer
(Note: NOC stands for National Occupational Classification, which is how Canada categorizes jobs.)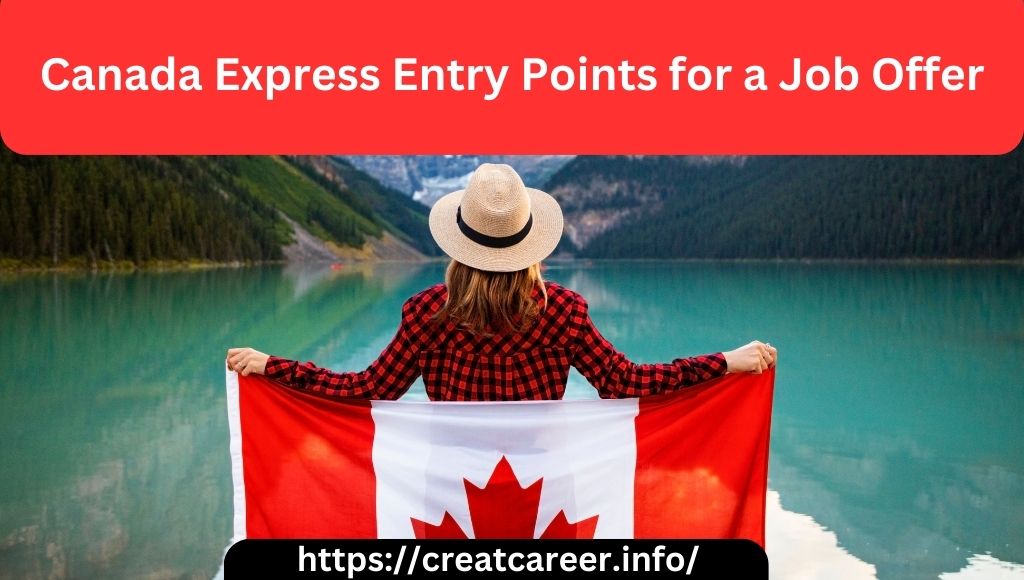 Here's a breakdown of how points are awarded in the CRS:
---
1. Core Human Capital Factors (Maximum 500 points for candidates without an accompanying spouse or common-law partner; Maximum 460 points with an accompanying spouse or common-law partner):
Age: Points are awarded based on your age, with the highest points awarded to candidates between the ages of 20 and 29.
Level of Education: Points vary depending on whether you've completed high school, have a trade certification, or have a university degree, with higher education levels earning more points.
Official Language Proficiency: You can earn points for proficiency in English and/or French. The better your language skills (measured by the Canadian Language Benchmark), the higher your score.
Canadian Work Experience: Points increase with more years of work experience in Canada.
---
2. Spouse or Common-Law Partner Factors (if applicable; Maximum 40 points):
Factors like the education, language proficiency, and Canadian work experience of your spouse or common-law partner can also earn you points.
---
3. Skill Transferability Factors (Maximum 100 points):
These factors consider combinations of your skills, education, and work experience. For instance, having a university degree and good official language proficiency can earn you additional points.
---
4. Additional Points (Maximum 600 points):
Canadian Degrees, Diplomas, or Certificates: You can gain additional points if you've studied in Canada at an eligible institution.
A Valid Job Offer: Depending on the job's NOC (National Occupational Classification) code, you can earn either 50 or 200 points for a valid job offer.
A Provincial Nomination: This is a major boost. If a province or territory nominates you through a Provincial Nominee Program (PNP), you can earn 600 additional Express Entry points.
Sibling in Canada: Having a brother or sister living in Canada, who is a citizen or permanent resident, can earn you an additional 15 points.
Strong French Language Skills: If you score NCLC 7 or higher on all four French language skills and have an English test result of CLB 4 or lower in English (or you haven't had an English test), you can get 25 additional points. If your French scores are the same, but your English skills are CLB 5 or higher, you can receive 50 additional points.
---
Total Maximum Points: 1,200
---
Recommendation: Use the official CRS tool provided by the Government of Canada to get an estimate of your points. It's a calculator that can help prospective candidates understand their score before applying.
It's essential to keep in mind that receiving a high score doesn't guarantee an ITA, as the CRS cut-off threshold fluctuates for each Express Entry draw based on the candidates in the pool and Canada's immigration needs.
---
Facts and Figures about Express Entry Points:
Over 80,000 immigrants are invited through the Express Entry system annually.
Approximately 10% of these candidates have a job offer in their application.
---
Pros of Having a Job Offer:
Higher Ranking Score: With up to 200 points on offer, candidates with a job offer are in a significantly advantageous position.
Increased Chances of Receiving an Invitation: Points mean everything in Express Entry. A job offer could mean the difference between getting an Invitation to Apply (ITA) and waiting in the pool.
Smoother Transition to Canada: Having a job lined up before landing can significantly ease the transition process.
Cons of Relying Solely on a Job Offer:
Not Guaranteed: Not every candidate will secure a job offer from a Canadian employer.
Potential for Exploitation: Unfortunately, there have been instances where unscrupulous employers have tried to exploit potential immigrants.
Doesn't Guarantee Permanent Residence: Having a job offer doesn't ensure that the candidate meets all other eligibility requirements.
---
Conclusion:
While having a job offer can considerably boost an applicant's Express Entry points, it's crucial to recognize that success in the system is multi-faceted. Candidates should focus on improving all aspects of their profile and not rely solely on a job offer.
---
FAQs:
What is the National Occupational Classification (NOC)?
The NOC is Canada's system for categorizing jobs. It's essential for candidates to identify their job in the NOC as it determines eligibility and points.
Does every job offer qualify for extra points?
No, only valid job offers, typically supported by a Labour Market Impact Assessment or falling under specific exemption categories, are considered.
How long does the job offer need to be valid?
The job offer should be valid for at least one year from the date of permanent residence.
Other Articles