| FIELD | VALUE |
| --- | --- |
| Location | Dubai, UAE |
| Salary | Specific salary details are not provided |
| Posted | 18 May 2023 |
| Closes | 18 Jun 2023 |
| Job Type | Full Time and Permanent |
| Business Unit | United Arab Emirates |
| Region / Division | Asia and Middle East |
| Reference | G4S/TP/2180741/223376 |
ROLE RESPONSIBILITY:
Protect premises, property, and information
Reporting daily to Supervisor with all daily reports as per procedures
Ensuring all Policies and Procedures are adhered to at all times
All Health, Safety, and Environment instructions are to be adhered to at all times
Operating and monitoring security systems
Control the entry and exit of individuals, materials, and vehicles
Patrol on foot searching for any situations or conditions hazardous to the property or safety of a person at a site
Patrol all outside parking areas as required to ensure vehicle safety and to detect an unauthorized person
Write appropriate reports as required
Must have a professional approach and quick decision-making ability
Read Also : Paramount Hotel Jobs in Dubai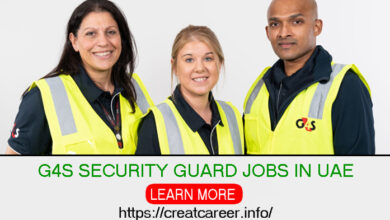 Selection Criteria:
High School Education Certificate as a minimum requirement
Last 3 years of work experience proof required
Highly developed sense of integrity and commitment to customer satisfaction
Demonstrated passion for excellence with respect to treating and caring for customers
Excellent communication skills
Willing to work on the shift schedule
How To Apply For G4S SECURITY GUARD JOBS ?
Disclaimer
https://creatcareer.info/ is an informative website. We do not offer any job opportunities or demand money from anyone. The information provided on our website is for informational purposes only and should not be construed as a job offer or solicitation. We do not guarantee the accuracy, completeness, or reliability of the information provided on our website. Users are advised to verify the authenticity of any job opportunities or offers independently and exercise caution when dealing with potential employers or recruitment agencies. We shall not be held liable for any loss or damage arising from the use of our website or reliance on the information provided.