A bank account is among the initial requirements for overseas students studying in Canada. It's critical that you select the one that gives you the greatest value in terms of features and services because this will be an essential tool for you throughout the next years. Continue reading to learn more about Canadian bank accounts for students.
The fundamentals of Student bank accounts in Canada
Full-time students in Canada can receive free basic banking from most banks; this includes no fees for checking accounts, though there might be restrictions or limitations. It's crucial that you go over all of the fine print before creating an account.
Consider the banking services that you could require before you begin your search. Maybe all you need is a simple checking account that works for everyday expenses and lets you take out and deposit money. To store some money apart from your primary account, you could also want to open a savings account. You can open a savings and checking account together in Canada with a lot of student banking plans. These accounts can be used with debit cards.
The GIC requirement for SDS study permits and Student bank accounts in Canada
A Guaranteed Investment Certificate (GIC) must be submitted with your study visa application if you intend to apply through the Student Direct Stream (SDS). You can use a GIC as evidence of your ability to pay for your studies in Canada, even if you're applying for a study permit through the standard application procedure.
Check out our post comparing all the various GIC banks for Canadian study permits if you do need one. This will assist you in choosing the most effective and reasonably priced student banking solution available in Canada.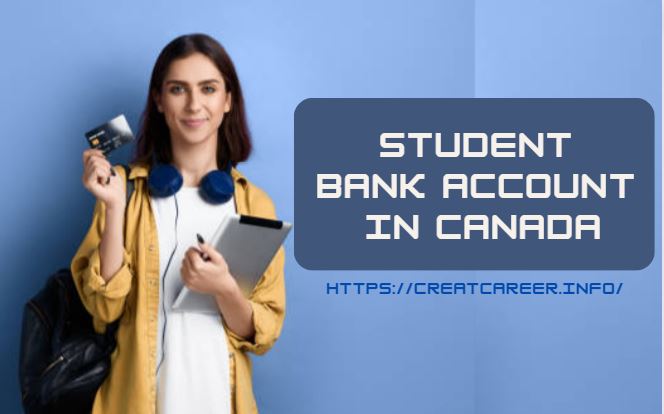 Bank accounts for students and credit cards In Canada
While you are in Canada, a credit card might come in handy, but before you apply for one, give it some thought. Even if having a little more money could seem useful, take caution not to accrue credit card debt. In Canada, credit rating is significant, and a low credit score may have consequences in the road. However, if you are certain that you can properly use a credit card—that is, stay under your overdraft limit and make at least the minimum payment each month—your college years may be an excellent time to begin establishing a solid credit history. A credit card that gives flight miles or points for other expenses might be something to think about.
Banks may also provide overseas students with a student line of credit if they require additional funding for educational expenses. These include lower interest rates, more incentive-based repayment choices, and higher limits than credit cards. But, since interest rates can rise quickly, it's a good idea to look at all of your loan possibilities before classifying a bank's line of credit as a student loan.
Due in part to the ease of using debit cards and the fees that banks impose on cash withdrawals from ATMs owned by private companies or other banks, many Canadians don't carry much cash. Most stores, cafes, and restaurants accept cards, and the majority of them also accept contactless payments for purchases up to a specific amount. However, certain establishments may not accept credit cards, and smaller ones may still only accept cash.
Interac is the name of Canada's internet money transfer system. You only need the recipient's phone number or email address to send money from your account to any other eligible Canadian account using Interac. It's likely that you may come across Interac when living in Canada; it's a terrific method to divide costs or pay pals back, and landlords may even request that you use it to pay rent.
Canadian bank accounts for students
The biggest banks in Canada, including CIBC, HSBC, BMO, RBC, Scotiabank, and TD, all provide student banking choices and entice students with a range of benefits every year. However, there are more possibilities for student banking in Canada. Pay close attention to monthly transaction limits, as exceeding them may result in fees of approximately $1 for each debit card transaction. The major banks in Canada provide mobile apps and online banking for convenient, safe banking at home or on the road.
Scotiabank
Scotiabank's student account offers no monthly fees, limitless debit card transactions, and a Virtual Visa Debit card that lets you make online purchases without a credit card. The Scotiabank SCENE rewards program is well-known for allowing you to accrue points toward complimentary movie tickets. In Canada, Scotiabank provides one of the most well-liked bank accounts for students.
CIBC Bank
The CIBC student account offers limitless free monthly debit card transactions along with no monthly fees. It's among the most affordable banking choices available to Canadian international students. For overseas students, CIBC also provides a plethora of benefits and resources, including a $60 sign-up incentive!
In addition, CIBC offers one of the best deals available for your Guaranteed Investment Certificate (GIC) if you are applying for your study permit via the Student Direct Stream. To understand what we mean, have a look at our guide comparing GIC possibilities.
CIBC is unquestionably a serious candidate for being among the best banks for international students if you're thinking about studying in Canada.
HSBC Bank
The HSBC Newcomers Program for International Students provides new account holders with exclusive packages that include extra bonuses based on the kind of account they open and the amount of money they deposit. If you create a new Mutual Fund account or, if you are able to work, set up a recurring payroll while you are enrolled in classes, you will be able to access additional bonuses. They provide the chance to develop credit with an HSBC Mastercard as well as a chequing account with free banking costs for a full year.
National Bank
There isn't a special program offered by National Bank for overseas students. Rather, their offer for a Student Bank Account is available to any Canadian full-time student. This deal includes a platinum credit card with no annual fees for the first two years, auto and travel insurance, and a free monthly account in US or Canadian dollars with unlimited e-transfers and overdraft protection. The package also includes a student line of credit with special terms and conditions; the devil is in the details.
BMO Bank
BMO During your studies and for a year following graduation, BMO offers a Student Banking account with no monthly fees. The total amount of free transactions you can do each month is nonetheless limited. In order to provide greater student discounts on well-known goods, they have also partnered with the discount program SPC.
RBC Bank
In addition to having no monthly fees, RBC's Student Bank Account for Newcomers offers a number of other advantages, such as:
No monthly cost for students enrolled full-time. Make monthly account payments of $0
In Canada, debit transactions are unlimited.
Interac e-Transfer transactions are free.
In Canada, there is no RBC cost to use the ATM of another bank.
Refund of up to $39 on an eligible credit card's annual charge
The RBC Mobile App for Students
To pay using your smartphone, simply tap.
Use a virtual Visa Debit to shop safely online
TD Bank
A fee-free monthly package for international students' banking is available from TD TD, with no minimum balance requirements. If you qualify, you can also open a credit card, savings account, and student line of credit. Be cautious: the checking account has a transaction limit that must be met before you are charged a fee for any debit card transaction beyond that point.
Other choices
In Canada, the practice of banking solely online is becoming more and more common, with a number of institutions operating completely online. Although this can be quick and easy, there might also be drawbacks, especially if you frequently need to take out or deposit cash.
For many people, the primary attraction of online banks is that they typically don't impose monthly fees. But since you're a student, you ought to be eligible for a free bank account at one of the major financial institutions. Additionally, having access to a branch can be very helpful while you're adjusting to a banking system that may differ significantly from your home banking system.
Tangerine
Account customers can make free cash withdrawals from Tangerine ATMs via the Scotiabank ATM network, despite the company not having any physical branches. Although they don't have a dedicated student account, the regular chequing account has many of the same benefits as the student accounts offered by the major banks.
Simplii Financial
Account holders can access their ATMs through Simplii Financial, the other major competitor in Canada's online banking market, which is run by CIBC. They don't have a specific student account like Tangerine, but they do have a similar selection of services and no monthly fees for their regular chequing account.
Canadian student bank accounts: a synopsis
Selecting a bank is a crucial first step in beginning your new life in Canada, so give it great thought. When confronted with student bank accounts in Canada, don't be hesitant to ask questions about anything you don't understand, and look around before choosing the first bank you see. Nonetheless, there isn't really a "wrong" choice because a lot of the student products are similar across the major banks.