Digital Nomad in Canada: Canada welcomes remote workers! In Canada, you are not need to have a work permit if you want to work remotely.
As of June 2023, Canada will allow digital nomads working for foreign businesses to enter the country and stay for up to six months using the same procedure as tourists.
Immigration, Refugees and Citizenship Canada (IRCC) representatives are now consulting with interested parties to determine whether further policies to entice digital nomads would be desirable. On the government website, it even states that some digital nomads who enter Canada might choose to look for employment with local businesses.
But in that instance, in order to continue working in Canada, you would either a work permit from Canada or permanent residency. However, given that a lot of remote employment is in STEM fields, there are probably choices that are facilitated for you under Canada's Tech Talent Strategy.
In this article, we'll explain how to determine what you'll need in order to travel to Canada as a digital nomad and how to choose the best place to stay.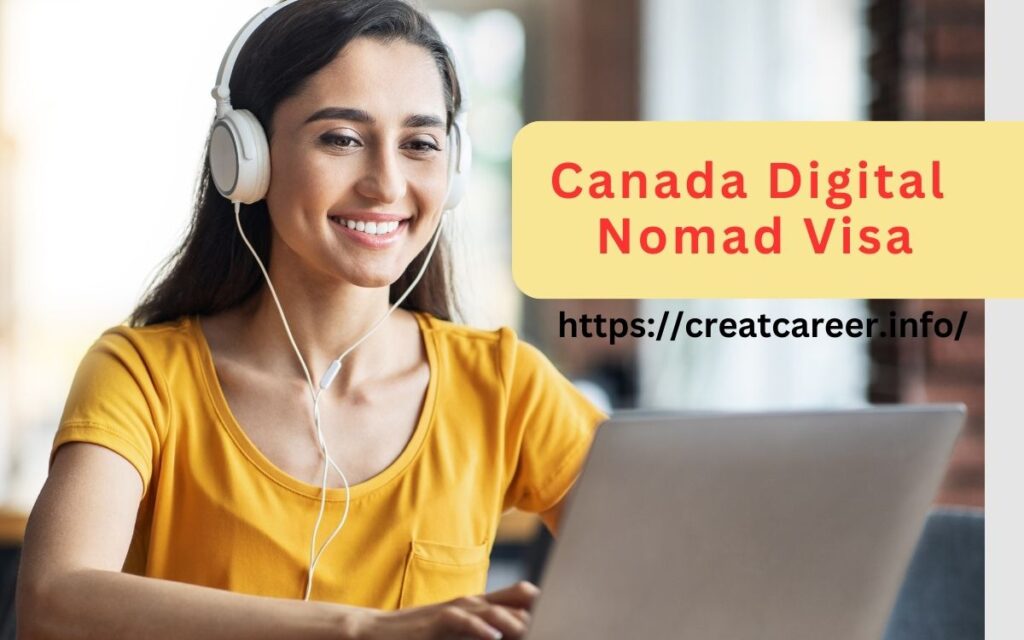 How to get about as a digital nomad in Canada

To enter Canada as a guest, you must first identify what type of travel permit you require. Depending on the nation you are from, the requirements change.
The need for a visitor visa or an electronic Travel Authorization (eTA) is not necessary if you are a citizen or lawful permanent resident of the United States. If you have a green card, you must show it to Canadian border services along with your passport.
In order to enter other nations, you will either require a visitor visa or, if you are from a nation exempt from requiring a visa, an electronic Travel Authorization (eTA). By using the table in the dropdown menu below, you can determine if you are from a nation that does not require a visa.
eTA application for Canada

An eTA application is available online. It costs CAD $7 and can be available right away. It is a good idea to apply in advance because the authorization may not arrive for a few days at times.
Request a guest visa for Canada.

The official name of a visitor visa is a Temporary Resident Visa (TRV). Go to the Canadian government website to find out how to submit an application for a TRV from your nation.
Where can a Digital Nomad in Canada stay?

The second-largest nation in the world is Canada. Where do you even start when deciding how to spend your time?
Of course, it depends on your specific preferences for travel activities and what you hope to accomplish during your time in Canada. Do you feel the lure of the wild or are you at heart a city person? Are you traveling to save money, or are you willing to splurge on accommodations? Do you intend to stay put or would you prefer to travel? In addition, in addition.
Check out Moving2Canada's destination guides to get started looking for a place to stay in Canada. In order to further inform your decision and give you more information about Canadian cities, we have produced movies and online resources.
Visit the travel guides we've created for Canada's four largest cities:
Toronto
Vancouver
Calgary
Check out our other pages on the provinces and territories of Canada as well as other undiscovered jewels in the nation if you want to learn more.
Take our Canadian Immigration Quiz to find out which economic immigration programs you might be qualified for if you're considering migrating to Canada permanently. Otherwise, read on to discover more about obtaining permanent residence in Canada.
How to become a digital nomad and move to Canada
The Federal Skilled Worker Program (FSW), the Canadian Experience Class (CEC), and the Federal Skilled Trades Program (FST) are the three skilled worker programs that are managed via the internet system known as Express Entry, which serves as Canada's primary immigration route. Additionally, it oversees provincial nominee program (PNP) application management.
Create a free Moving2Canada account to check your eligibility for Express Entry and other Canadian immigration schemes. A tailored checklist, special material and deals from our dependable partners, access to our newsletter, and a personalized checklist that will help you on your trip to Canada are all included in your package.
Check out your possibilities for a work visa if you're not quite ready to apply for permanent residence. Digital nomads from a country that qualifies may also be able to obtain an International Experience Canada (IEC) work permit in addition to those under the Tech Talent Strategy. These are but a few of the several work permit alternatives accessible to foreign nationals seeking employment in Canada.
Check out our various tools for job searchers and browse the openings on our job board if you're looking for employment in Canada.
We hope you discover what you're looking for, whatever the reason you desire to explore Canada.